Update: October 11, 2013
Look up show times and purchase your tickets today 
by clicking on the city of your choice.  
Take a look at the trailer HERE!
CALIFORNIA:
  Sundance Kabuki, San Francisco
AMC Atlantic Times Sq, Monterey Park
  South Coast Village, Santa Ana 
HAWAII: Cons Pearlridge West, Aiea
ILLINOIS: 
  AMC Barrington, South Barrington
MARYLAND/DC: AMC Rio, Gaithersburg
MASSACHUSETTS: AMC Boston Common, Boston
NEW YORK:
  Soundview Cinemas, Port Washington
TEXAS: AMC Studio, Houston
WASHINGTON
 Sundance Cinemas Seattle, Seattle
For other cities click here: http://www.tugg.com/titles/linsanity

Update: October 8, 2013
As "Linsanity" the documentary screens in the U.S., Jeremy Lin was met by fans as he arrived yesterday to the Philippines for a Houston Rockets preseason game. Fans greeted Jeremy as he was on board a bus at the Ninoy Aquino international Airport, south of Manila. Photo credit: Jeremy Lin's Facebook page.

October 6, 2013
Go see "Linsanity" the documentary about Jeremy Lin! Bring your friends and family. Show Hollywood that a film about an Asian American can be a box office success! It is in select theaters in limited release.  Every single person who buys a ticket and goes to see "Linsanity" right now counts. 
Hollywood is a business, so please buy a ticket and go - now. Movie executives will look to the box office receipts, and will decide how many screens and how long the documentary will continue to be shown in theaters.
Click on the links below to find the closest theater, buy a ticket and go!



UNDRAFTED, UNWANTED, UNWAVERING

 

THE TRUE STORY OF JEREMY LIN 

 

 

Don't miss out!  The Movie OPENED THIS WEEK!  

Purchase your tickets today for LINSANITY at this link: 

CLICKING HERE

.

 

 Look up the current schedule at this link: 

show times

 for Los Angeles, San Francisco, Cupertino, San Diego, Chicago, Houston, Washington DC/Maryland, New York, Boston, Seattle, Honolulu, Philadelphia 

HERE

!  For other cities, click 

HERE

.

 

Come out and support the movie this weekend!  When we demonstrate there is great interest in the film, the movie will expand into other cities 

October 11

 and run for multiple weeks or longer. Its time we make Hollywood understand that films featuring Asian Americans can be a box office hit. We can only do this with your participation so buy your ticket, bring your family and friends, and spread the word!
A GREAT FILM FOR THE FAMILY AND FOR ALL AGES
The film focuses on Jeremy Lin as we are given a brief, but intimate glimpse of life before the flashing cameras of wild paparazzi and screaming fans. Linsanity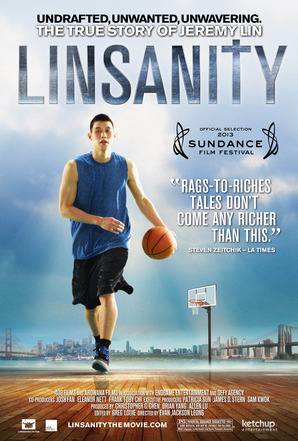 traces Jeremy's life from Palo Alto, CA to his rise with the New York Knicks. The film engages audience with his battles and his victories as well as how he manages to deal with his growing fame. The film encompasses important themes relevant toJeremy such as his Asian American identity. 
Historically speaking, Asians in America have not been given the proper or even requisite respect in terms of culture and identity, thus carrying negative stereotypes that have evolved to become a stigma that affects Asian Americans. But today, Jeremy Lin emerges as a steward, capable of breaking these negative stereotypes just as he broke the NBA record for most points scored in the first five career starts. Jeremy's story serves as an inspiration and proves to audiences, and the entire world, that Asian Americans are more than what stereotypes say, and we can in fact fight through the barriers to
achieve our greatest dreams.
 
CHECK IT OUT...
Linsanity's Hollywood Premiere
---
Tickets can only be purchased online before the screening date.  
Fayetteville, AR * Little Rock, AR * Bakersfield, CA * Clovis, CA * La Mirada, CA * Sacramento, CA * Broomfield, CO * Atlanta, GA  * Fort Wayne, IN * Johnston, IA * Leawood, KS * Newport, KY * Amherst, NY * Sterling Heights, MI * Southfield, MI * St. Louis, MO * Morrisville, NC * Webster, NY * Columbus, OH * Valley View, OH * West Chester, OH * Portland, OR  * Austin, TX * Dallas, TX  * Plano, TX * San Antonio, TX * Salt Lake City, UT * Hampton, VA * Wauwatosa, WI
Interested in bringing the film to a local theater in your city?  
Learn how by CLICKING HERE.
JOIN US ON SOCIAL MEDIA TO KEEP UP WITH THE NEWS AND 
This reminds me of another film back in 2002-2003. Ten years ago - that seems like a long time in our digital world, but not so long in the movie industry. It was not a documentary, but a fictional feature film called Better Luck Tomorrow, directed by a then relatively unknown director named Justin Lin. Like Linsanity, the film screened at the Sundance Film Festival. When the film was soon to be distributed, Justin Lin asked for ground support to help encourage people to go out and buy tickets to see his movie Better Luck Tomorrow. We were among his hundreds of unknown, unnamed volunteers. We were on a mission. We also knew that if Justin's movie flopped at the box office, it could be a set-back for Asian American cinema. 
Since it was pre-Facebook and pre-Twitter social media days, I remember grabbing friends to volunteer to do an old school street team effort to get the word out about Justin Lin's film. We bought tickets, posted stories online, made phone calls, and put up flyers and posters. Our writer/editor Lia Chang in New York did an interview with Justin Lin.  
So, here we are again. Buy a ticket and go - and tell your friends and family to do the same.  By doing so we will collectively send a message to Hollywood that films about an Asian American can be a box office success! 
Footnote:
Members of the founding team of RottenTomatoes.com, a movie review site which I also helped in varous capacities also pitched in. RT was the brainchild of Senh Duong, his founding partners Patrick Lee and Stephen Wang, and founding team members Paul Lee, Binh Ngo, Wilson Wang, Susan Nakasora, Lily Chi, Mark Moran and Pungkas "Pongky" Nataatmaja. As you can probably tell from their last names, many of the staff just so happened to be Asian American, and had an affinity to supporting Justin Lin's film, and Asian American cinema.
RT's members also supported projects like this website which launched to help fill the void of stories that needed to be told about Asian Americans and the Asian American communities that never got covered in the mainstream press. In the early years, before RT was acquired by corporate media, RottenTomatoes.com hosted and managed AsianConnections.com on its servers, RT team members Paul Lee and programmer Pongky Nataatmaja, and others, managed the website with me, and wrote the original code, so I could devote more time to bring in ad contracts and produce video features from Hollywood for RottenTomatoes.
I mention more of RT's role in helping to get the word out about Justin Lin's film Better Luck Tomorrow, in an April 4, 2013 commentary I wrote in tribute to the late film critic Roger Ebert who was a supporter of Justin Lin's Better Luck Tomorrow, giving Asian American cinema a giant leap forward.
Related: 
Jeremy Lin's arrival October 7, 2013 for a Houston Rockets preseason game from TimesColonist.com.